Planting palm tree at a depth of 40 meters of the ocean
Author: Ruhollah Karimi Qom - Hamshahri reporter
The number of seminary students want to surprise the world...
10/02/1394
The number of seminary students want to surprise the world. They just will not adventure in the international open-water depth of 40 meters. A greater purpose behind this action is that without the money to do it, they do not know the day and night.we went to their team leader, Hojjat al-Eslam Gholami to tell us about their new masterpiece; the clergyman who holds a 2 star international diving instructor and he is proud that all of his documentshas his seminary picture.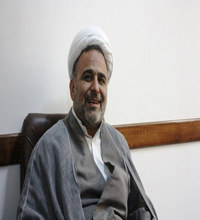 How were you formed in your mindthe Motivation of palm planting at the depth of 40 meters in world open water?
According to the Islamophobia that exist in the world, and some are trying to show a rough face, inept and terror of our religion and Prophet (PBUH) to the world, we as a seminary students do this symbolic action. We are trying to plant the tree at the depth of 40 meters in international waters and announce to the world that our prophet (PBUH) is the messenger of mercy. Our motto is "Muhammad (PBUH), the Messenger of mercy and compassion".
We announce to the world that our religion is not a religion of terror and violence, but religion of mercy, as our prophet called a ggod example and mercy to the worlds.
A few years ago, the same record was recorded in the Guinness Book.
The last record was recorded by Rasul Bagherian that he planted the Christmas tree along with the number of divers, on the island of Bali, Indonesia, at a depth of 37.5meters of the Pacific Ocean, but we coordinate to plant palm tree at a depth of 40 meters .
We"re documenting it. We will register the Depth by the computer system and represent the documents, to record in the Guinness book.
Which area have you considered for this action?
Qeshm Island.
Why Qeshm?
It is important for us that this work to be done in international waters. We have more facilities in this island. We will work with departments and good facilities in Blue Dolphin Diving School from previous years, While school administrators have a good cooperation with us and participate in this project.
How many students will participate in this symbolic action?
10 seminary students who are skilled divers, are participating in this work.
When it would be said that 10 seminaries want to plant the tree in the ocean at the depth of 40 meters, the first question that arises in people"s minds is whether this type of experience and knowledge are enough for whom want to record an international record.
You asked a good question. All members of our team are of skilled and experienced divers that a number of them even have a degree in teaching scuba diving. I am aninternational 2 star diving instructor and this document is valued all around the world and is submited and I can teach scuba diving in all countries of the world.
Here is good to refere to the water sports in seminary. These sports are established in seminaries and seminary has a high power in these exercises. Athletes not only in Qom seminary but also in the country have so many things to say. We have a joint program with the Navy and swam the distance of 16 kilometers between Bandar Abbas and Qeshm Island. Now we have talented swimmers in seminaries. More than 500 lifeguards and about 100 diver are in seminary.we have 7 lifeguard instructors and I am a senior instructor of lifeguard and international lifeguard too.First 7 medals of 9 one were awarded to the students of seminary in Unity Cup of Seminary and University. seminary"s swimmers have astrong presence in Regional swimming team and their coach is the student of the seminary.In addition, Medalist Lifesaving Championships held in Qom for a few years are seminary"s students. Even in Jamiat Alzahra, the seminary for women, we have good ability in water sports. Now we have 30 divers in Jamiat Alzahra, and we are developing stategies for development of the field, and we will soon have diver instructor among women. Also we introduced 2 ladies for being the lifeguard instructor.So when it would be said that seminary"s students want to do such a great job, there is no reason to doubt that they have the expertise and skill.
How do you put a palm tree at a depth of 40 meters?
A concrete structure is already used as the basis for our work. We will bring the concrete and tree individually to a depth of 40 meters of water where we install the tre.we willDesigne it in such a way that it is easily installed.
..
Continues : http://nundelpak.parsiblog.com/Posts/55/